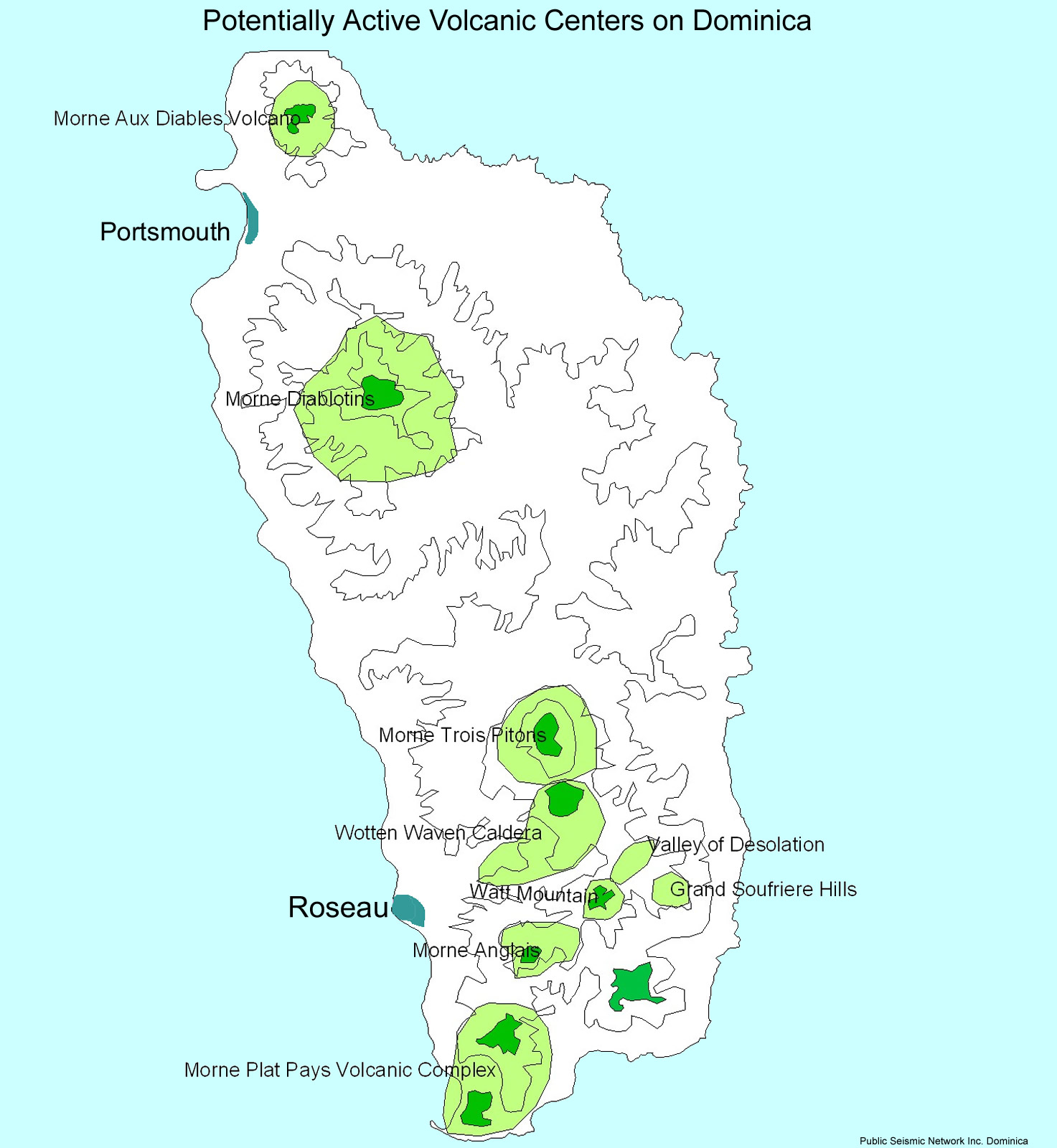 There is an unbroken chain of young volcanic centers which form the backbone of Dominica. From Morne Patates in the south through Morne Plat Pays and Morne Anglais, Grande Soufriere, Morne Watt, Micotrin, Morne Trois Pitons, and Morne Diablotin in the north-central part of the island. At the extreme north is Morne Au Diable volcano.
In the south central part of the island, in what was a large basaltic shield volcano, a central graben developed in the Pleistocene and is bounded by conspicuous cliffs to the west and north. Older volcanics of the island are exposed in eastern and Northeastern regions, form La Plaine in the south to Hampstead in the North, consisting of basalts and andecites a basaltic andecites.

With the exception of a Mt. Patates deposit which had a Carbon-14 date of B.P. 450 years, most of the other dated materials on Dominica range from 20,000 to 46,000 years.

The only recorded volcanic activity on Dominica were steam explosions in the Valley of Desolation in 1880 and 1997.  The Valley of Desolation is in south-central Dominica, within a thermal area which includes the Boiling Lake - a 50 m diameter body of water that is in a constant state of boiling.

The most notable volcanic activity in Dominica is the large Roseau ignimbrite eruption, which resulted in formation of a submarine pyroclastic flow that extended over 250 km distance into the back-arc Grenada Basin, and produced co-ignimbrite ashfall throughout the North Atlantic to east of the arc. It is the most recent large-scale explosive eruption in the Lesser Antilles arc and occurred about 28,000 years ago from the Trois Pitons - Micotrin center. (Sigurdsson 1972; Carey and Sigurdsson 1980)
A caldera, roughly 10 km in diameter has been postulated (Robson and Tomblin, 1966), rejected (Wadge, 1984; Wadge, pers. comm., 1984; Sigurdsson, persl comm., 1984), re-interpreted as the relic of a gravitational collapse (Roobol and others, 1983), and re-postulated as a normal collapse caldera (G. Heiken, pers. comm., 1986). Robson and Tomblin (1966) considered Morne Trois Pitons, Morne Micotrin, Grande Soufriere Hills, Watt Mountain, and the Valley of Desolation to be a single volcano, perhaps including two other nearby cones, Morne Anglais and Foundland; Wadge (1984) considers Morne Anglais and Foundland to be petrologically distinct from the earlier mentioned vents and Shepherd (1986) considers all of these vents to be closely spaced but independent.

Dominica's Volcanoes
Au Diables
Diablotins
Trois Pitons
Wotten Waven Caldera
Valley of Desolation/Boiling Lake
Morne Anglais
Morne Watt
Morne Plat Pays Volcanic Complex
Grand Soufriere Hills